The Zombie Giftocalypse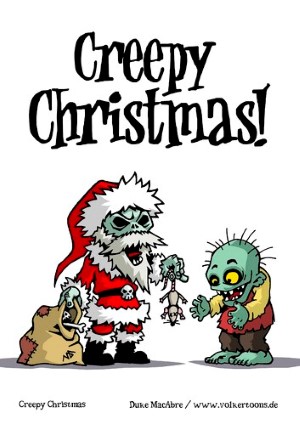 © http://www.toonpool.com/cartoons/Creepy%20Christmas_109380
Its Christmas time folks - the season of goodwill, bad jokes and gluttonous eating. There is no better time to bolster your undead collection. Christmas, however, is not just a time to get lots and lots of stuff, you also have to give things to other mortals and, here at The Dead Times, we see this as the perfect chance to spread the Zombie fan infection to the less well informed by giving the gifts of the dead. That's why, in time honoured tradition, we have prepared a seasonal collection of stand-out gifts, each guaranteed to give you so much fun, you may even raise the dead!
Remember kids, on Christmas Eve night keep your ears open - if you hear a "Ho Ho Ho", Santa is coming on his sled; if you hear a series of guttural, emotionless moans, lock your doors, bolt your windows and prepare for the on-coming Zed.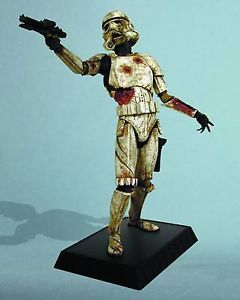 © Gentle Giant Ltd
Link: http://www.gentlegiantltd.com/product_p/80125.htm
This limited edition 13" statue is, quite frankly, phenomenal. Taken from the novel Death Troopers, it depicts an Imperial Stormtrooper who has contracted the Zombie virus and turned to something more sinister than the Dark Side. The detail on the statue is amazing and it is extremely rare for a piece of this quality to have customisable parts, letting you expose as much decaying flesh as you want or swap out the arms for different undead styles. Only available in America (with shipping to the UK), this is definitely one expensive gift.
"Star Wars + Zombies = Must have!" - ZombieTom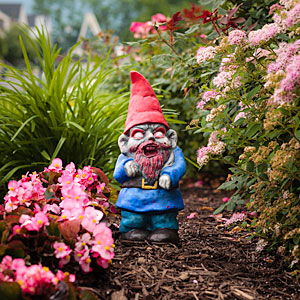 © ThinkGeek
Link: http://www.thinkgeek.com/product/f439/?srp=3
"There's a Zombie on your lawn". These cheeky chappies (there are four in the set) are a must for any proud Zomb-a-holic, if just for the gnome-ovelty value alone. Sadly, I can only find a UK retailer for one of the set (http://www.geniegadgets.com/zombie-gnome.html?gclid=CNS3jrjWlLsCFUUOwwodMAMAVQ).
"Survivor Gnome, Zombie Gnome, Rising Gnome, or, my personal favourite, Evil Gnome - it reminds me of one of my ex-girlfriends." - TwIsTeD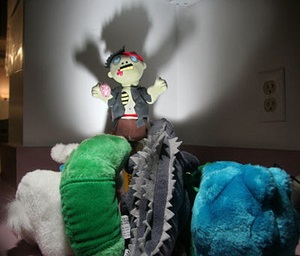 © ThinkGeek
Link: http://www.thinkgeek.com/product/ac4a/
This little plush is a great toy that captures the decaying look of Zombies without being gruesome - never a quality you want in a plushie. Ever wanted to just rip someone apart or create a bizarre abomination of confused limbs? Each of Dismember-Me's limbs can be ripped off the main torso and re-attached in multiple configurations so, not only is this product a great Zombie soft toy, it is also a neat stress reliever. UK retailer: http://www.amazon.co.uk/getDigital-de-Dismember-Me-Plush-Zombie/dp/B00BM62YNM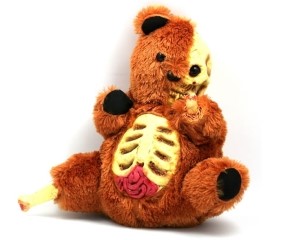 © ZombieGift.com
Link: http://www.zombiegift.com/2012/10/10/zombie-teddy-bear/
This is some sort of genius, combining the cuddly cute bear with an undead terror. We don't recommend this for young children due to the grotesque look but for big kids like us this would be a well-received gift. No one would ridicule you for owning a teddy bear when it is a Zombie Teddy, complete with exposed bones, guts that are ready to vacate the premises and a disturbingly well-detailed partially exposed skull. An expensive offering but one, quite literally, to die for.
"ZOMBIE TED!" - ZombieTom
"TED OF THE DEAD!" - ZombieTom
"How many more Zombie teddy puns can I come up with?" - ZombieTom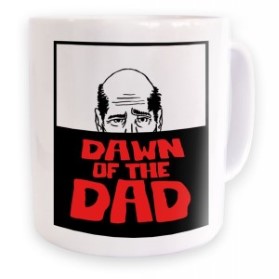 © Something Geeky
Link: http://somethinggeeky.com/tv-film-mugs/dawnofthedadceramiccoffeemug
"When there's no more room in Hell, the Dad will walk the Earth". This coffee mug would make an excellent gift for Dad this Christmas, especially if your Dad is a shambling, easily-confused monster in the mornings (can a Dad be anything else?). Practicality combined with humour - the spirit of Christmas.
"I love this little mug, it brings a smile to my face every time I see it." - ZombieTom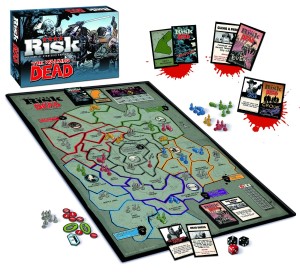 © USAopoly
Link: http://www.amazon.co.uk/The-Walking-Dead-Board-Edition/dp/B00CFXCDXM/ref=sr_1_2?ie=UTF8&qid=1386431731&sr=8-2&keywords=walking+dead+risk
This is a great re-imagining of the classic Risk board game. Now you can face off against your enemy while trying to beat back hordes of Zombies. Zombies continuously spawn as the game progresses - nowhere is safe and right up to the end game, victory is uncertain. Instead of standard Risk Armies, you have mere bands of survivors, each survivor with a potential to turn into a slavering Zombie once killed. This is a game of survival.
"I have always been a great tactician, but the standard Risk board has always been a tad stale for me. This Walking Dead version will liven things up a bit - or should that be deaden?" - TwIsTeD

© Hasbro
Link: http://www.amazon.co.uk/Nerf-N-Strike-Elite-Mega-Centurion/dp/B00CXU3Y0I/ref=sr_1_1?ie=UTF8&qid=1379340716&sr=8-1&keywords=nerf+centurion
When the Zombie Apocalypse does happen (it's not a case of if), sooner or later, you're going to have to fight them. The best way to take down roving ghouls out of harm's way is from a distance and with this super-long-range toy gun from Nerf, you can get some practice in, enjoying it while you do. The separating clip of mega-darts, the replica bolt action, the whistling bullets and the bipod that can be lowered for extra stability will make you feel, and look, like a Zombie killing professional.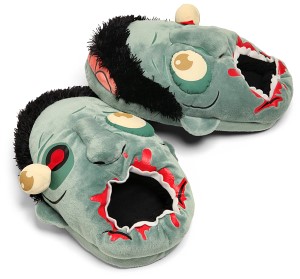 © ThinkGeek
Link: http://www.thinkgeek.com/product/ea01/?srp=22
There are certain standard gifts at Christmas; socks, scarves, hats and slippers. These warming items come naturally, seeing how cold the festive season can be, but this year, forget those run-of-the-mill presents - let a pair of ravenous ghouls keep your feet warm! These slippers are not real undead ghouls (those are in limited supply right now) but they will sure keep your feet toasty - and make you look fiendishly good to boot.
"I nearly always get a pair of slippers for Christmas - not the most interesting of presents. Now these have come along, I really hope I get some slippers this year!" - TwIsTeD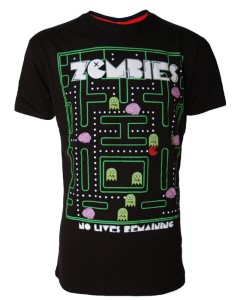 © Darkside Clothing
Link: http://www.darksideclothing.com/acatalog/No_Lives_Remaining_T-Shirt.html
This retro t-shirt takes a classic computer game and gives it a modern mutation by infecting it with Zombies. Pac-Man is the game everyone knows, but do they know of the horrors unleashed by the Zombie version? Ghosts are replaced by wandering green Zombie creatures, bonus fruit and Power Pellets are replaced by brains and when the player runs out of lives... that's when the fun turns to terror. If, like us, you love games as much as Zombies and want to proudly display that fact on your chest, you'll adore this epic t-shirt.
© In My Minds Eye
Link: http://www.ebay.co.uk/itm/Gruesome-Severed-Zombie-Head-Water-Ball-Snow-Globe-The-Walking-Dead-Horror-NEW-/130821796464
When the weather outside is frightful, just be glad there are no dead people crawling out from their graves in the local graveyard. Oddly enough, should you wish to recreate this experience, you can totally do that - just pick up this little snow globe detailed to resemble a cemetery, give it a shake and watch the coloured flakes fall. Pretty Zombie.
"Perfect for a Zombie-themed mantle on Christmas day or on your bed stand at night." - TwIsTeD