The Zombies are back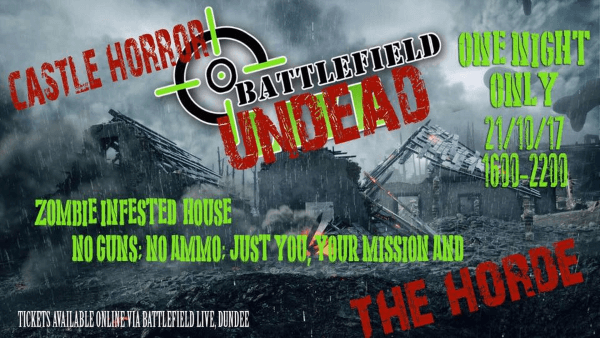 © Castle Horror
Spooktober is upon us and it's time to celebrate all things horror once more. We may have had IT way back in September, totalling a jaw-dropping $500M in the worldwide box-office, but this month sees the long-awaited revival of the legendary SAW franchise - "oh yes, there will be blood". Continuing the fright-fest; season 2 of The Exorcist begins on SyFy and AMC's The Walking Dead returns for an action-packed eighth series. However, not to be out-done by these biblical horror offerings, Castle Horror - those fun-loving freaks from Dundee who sent numbers of people dashing through the Zombie hordes in July's DEAD ZONE - are back with a gore-splattered smorgasbord of events.
First up, the Zombies (and these guys have been to Zombie school) are being unleashed in BATTLEFIELD UNDEAD. Taking place in the epic Battlefield Live unit in Dundee, unarmed civilians will be led round the infected suburban environment by teams of Z. O. R. T. (Zombie Outbreak Response Team) troops, completing objectives as they duck and weave past the vengeful dead. I'm also reliably told there will be one or two surprises in store. The event takes place on the 21st with openings between 4pm and 10pm. So; suit up, grab your Zombie apocalypse survival gear and prepare for scares - point a web browser at https://battlefieldlivedundee.bookmykarting.co.uk/book/141/booking.aspx?date=21/10/17&package=zombiewalkthrough to get your tickets before they go!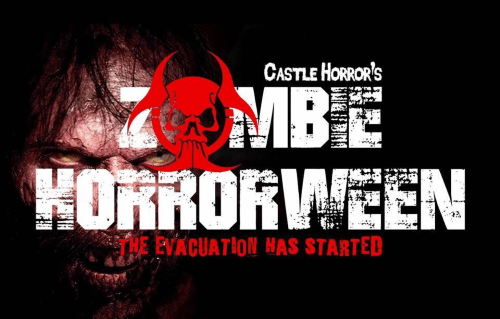 © Castle Horror
Next, taking place on Saturday the 28th in Perth City Centre, there's the annual Zombie Horrorween spectacular. Attendees from last year will know what to expect; a carefully constructed maze filled with legions of undead hungry for human flesh. However, this year Castle Horror are pulling out all the stops and providing a dedicated children's area packed with "not-too-spooky" witches and wizards. The event is free - no tickets are required. The Zombie maze is open from 6pm until 9pm. Good luck out there and don't get bitten!
There is also, potentially, another Halloween horror event in the works but I've been ordered to keep my mouth shut for now. Keep checking the Castle Horror facebook page for up-to-the-minute info and for further details on the events above.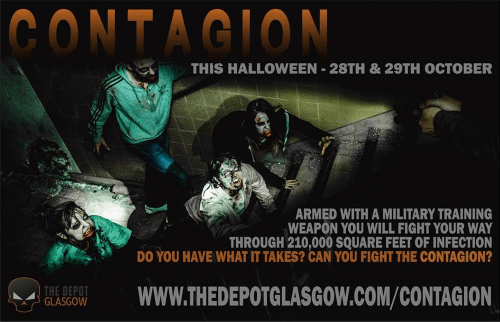 © Scare Scotland
It's not just Castle Horror capitalising on this, the most scariest of seasons; Scare Scotland over in Glasgow is another company providing customers a chance to experience the Zombie apocalypse. On the 28th and 29th of October, members of the public will be issued a military training weapon and let loose in 210, 000 square feet of infection. According to the Scare Scotland facebook page, tickets are available at www.thedepotglasgow.com/product/contagion/ though no webpage seems to exist at that address - best to just send them a message on facebook if you are interested in battling the ravenous undead!