Difficulties in Zombiology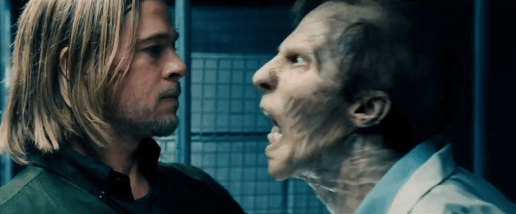 © https://danknights.wordpress.com/2014/03/10/world-war-z-review-brad-pitt-2013/
I may pride myself on being a Zombie expert - not among the astounding levels of true greats such as George Romero, father of the modern Zombie genre and creator of many legendary Zombie films, or Max Brooks, author of the amazing, knowledge-laden Zombie Survival Guide - but, at the very least, more intelligent than the shambling dead themselves. However, I do still have questions about these monstrous beasts of undeath, these putrid shells of walking muscle known as Zombies. Two particular frustrations are defined by painfully simple questions; just how does an unintelligent and uncoordinated Zombie manage to stand-up and when a Zombie attacks a human, why do they not always continue eating until the entire corpse of the human is devoured. Below, I'll explain these conundrums in more detail, as much as I can, and attempt an answer - while leaving the virtual floor open to anyone else to dare tackle the enigmas.
How does a Zombie get up?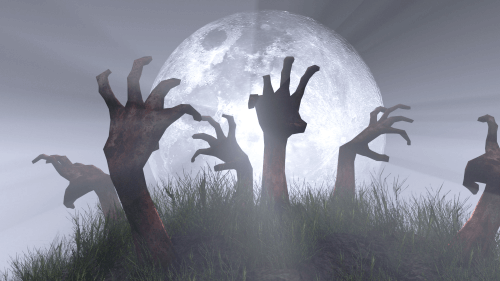 The question of how a Zombie gets to its feet after falling has annoyed my brain for many years, gnawing at my intellect like some insipid horror. How they rise from a slab or prone position to give the stereotypical 'coming back from the dead' vibe is fairly obvious - it's basically just a slow sit-up, driven by contracting muscles - but it is how they get from this stage to a full-blown ambulatory state that raises the problem and is the source of my quandary. How does a Zombie's limited brain know what to do to enable the Zombie to rise from the ground? For us, living, breathing, thinking humans, standing up after falling is second nature - the average person does not need to consciously think of how to get back on their feet, they just do it. If you actually imagine the mental and physical processes involved however, the task is actually quite complex. To start with you have to read the terrain, figure out where to put your arms to support the weight of the body as you stand, perform calculations to decide whether putting your arms in these optimal places is actually sensible, forming alternative solutions if not. Once your mind has processed enough information to come up with a plan for standing, that plan has then to be put into motion; different amounts of force have to be put into each limb, muscles extending and contracting just enough to achieve the intended stand, not forgetting the mental capacity required to judge when you have finished standing up, correcting any "balancing" issues that arise. For the mindless undead, creatures with no agility and little coordination, often portrayed as capable of only a stiff shuffle and the occasional moan, it is very difficult for me to visualise how they could achieve such a seemingly mundane, yet actually complex, task, let alone do it in a meaningful timeframe to replicate their human counterparts. As such, I have no effective answer or attempt at one. Perhaps the undead rise in some other means that defies normal rules of gravity and physical ability, pushed on by whatever unspeakable thing turned them into Zombies in the first place. Perhaps there is one pre-programmed rule for standing up in the mind of every Zombie that it simply puts into practice whenever it is on the ground, possibly failing many times due to improper planning, potentially leading fallen Zombies never to rise again.
As far as I am aware very few, if any, Zombie films show a Zombie physically getting up after a fall - instead, invoking the power of Hollywood and the magic of the "cut". In all honesty though, it's not something that would stick in my memory after watching a movie so there is every chance I have excluded some time-honoured classics. Zombie video games may shed more light on the subject than movies as the procedure of fallen Zombies getting back on their feet cannot be so easily hidden. However, the processes they follow are nothing more than animations - simple movements with no required dexterity in the target and no forced adhesion to physical law.
If you know of any film that depicts a Zombie truly getting up or you have any other input on this topic, please do let your opinion be known by leaving a comment below.
Why does a Zombie not simply devour its whole prey after the initial bite?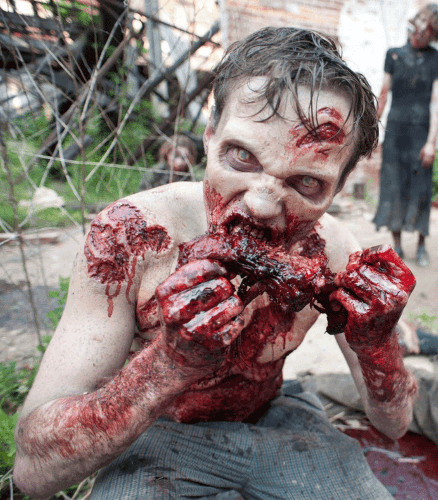 The standard answer to this question is that Zombies do not "like" to eat cold meat - only the warmth of life stirring their primal need to feed. However, this solution does not sit well with me. Why should a Zombie show a desire or preference at this point in its life-cycle, having caught prey and achieved, what would seem to be, its ultimate goal? It has never shown such choice and decision-making skill before; the fetid beast desires only to eat human flesh and will blindly do whatever is necessary to get it, often causing itself bodily harm in the process. Why should a Zombie not simply continue to eat that which it craved until all flesh from a cadaver is gone, why should it give up after a certain period, somehow deciding that the caught flesh is now inferior? Indeed, George Romero's Day of the Dead and Land of the Dead - two high-profile Zombie movies - show Zombies feasting on random human remains such as a singular finger or severed arm, appendages that, I do not imagine, could hold much heat after removal from the host body. So, assuming the 'warm flesh hypothesis' is not true, there must be another explanation as to why a Zombie would leave a "still juicy" corpse.
A seasoned Zombiologist would likely point out that a Zombie's functional mind is small and of singular focus; once prey is no longer occupying that mental space by moving around and requiring that Zombie to aggressively react, that space can be taken up by something else, thus, distracting the Zombie from their meal. I would wholeheartedly agree with this statement but, it does not really answer the question - if the Zombie is not distracted, they still do not devour their prey entirely… or do they? Maybe Zombies would always consume their entire prey if left alone? It makes sense; with the absence of distracting stimuli, the mind would be able to maintain focus - the Zombie would continue eating the victim until there was nothing left. This is a perfectly plausible theory but it does have substantial ramifications for the start of a Zombie apocalypse. Consider the scenario where one Zombie rises from the dead in a rural area. He senses someone, he kills them, eats them - you've still only got one Zombie. Okay, so now that Zombie comes across a farmstead with three people in. The mindless Zombie naturally takes the owners by surprise, chasing them as they flee. He bites one, starts eating but gets distracted by another of the survivors. While in chase, the third survivor has only to kill that Zombie and the one that was bitten (who has probably not risen after such a short time) to end the outbreak - job done, case closed. I know that is a fairly contrived example but if you scale it up to a wandering horde of living dead in an entire city - the horde is eventually going to reach a "critical mass", fully consuming all nearby prey, stop growing and be relatively straightforward to quarantine and destroy. The concept of a threat eventually ending itself is a fairly stupid one to me that would go against the laws of nature - I mean, something created these shambling horrors be it a disease or unjust evolution, so for them to have very little prospect for being successful, whatever that would mean for a lifeless Zombie, just feels "wrong". Then again, is that not what Zombies are; a brainless force that defies all logic, that does things without any provocation or need, that can have no concept of success because it has no sense of purpose and no objectives to be met?
Have you got a theory about Zombies and their eating habits? If so, I'd love to hear it - drop it in a comment down below and I'll have a gander.