Two features all Zombie survival games should have
© http://adarkervision.com/2014/04/22/sony-announces-new-zombie-mmo-h1z1/
One of the great things about Zombies is their "ease-of-use" within games - all you have to do is decide to set the game in a post Zombie Apocalypse world and, bam, you've got a game concept. These "do whatever you need to in order to survive" video games are excruciatingly popular right now from the massive DayZ, H1Z1: Just Survive and 7 Days to Die to the smaller, independent March of the Living. However, though easy to dream of, I would imagine that these types of games are terribly difficult and time-consuming to create - ill-fated The Dead Linger being testament to this fact. Below, I have listed two features for a typical Zombie survival game to ensure that, once all the hard work is done and the game is released, it does not go unloved, abandoned by the hordes of excited gamers that clawed for its creation.
1. The Shopping List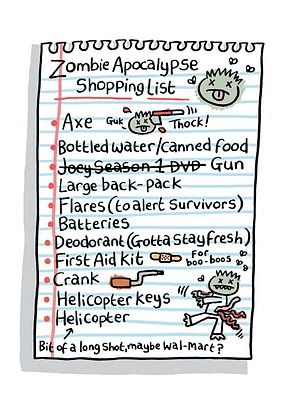 © It's the apocalypse but you still need to do the shopping | Pinterest
What is it: The shopping list is just what you would expect, as boring as that may be, a list of items to get at a shop.
Why it is important: All survival games have two basic, fundamental premises; there are rules and there are resources. The rules are general things like 'you need to eat' or 'to build structures you require materials'. Resources are the entities that make those rules possible, for example; the individual food items that you eat or the individual wooden blocks used to create a set of stairs. So, with the requirement of regular resource gathering, the reason for a shopping list system should be clearly obvious to a sandbox survival game - it lets players keep track of what they need to collect to progress towards a goal they have set for themselves. You may not think such a feature would be that necessary for a Zombie Apocalypse simulator, after all, why write stuff down when you can grab a cricket bat, smashing rotten Zombie skulls with every swing? Basically, it all boils down to realism and immersion.
A Zombie Apocalypse survival game is a wonderful incarnation of the genre. In addition to all the general survival needs of the game like thirst and hunger, there are also Zombies wandering around the landscape, roving undead ready and able to rip your brains out, hoping to devour your lovely warm flesh without need, cause or will. The only respite from the relentless unspeakables is the safety and security of structures you make, the defences you place and the unshakable belief that you have the correct tools for the job. I love this, the feeling of satisfaction when you create something allowing you to survive in a world where life matters most but also the ever-present dread of going outside, of risking your life to gather more resources, place new traps and simply hunt for enough food to keep you alive just that little bit longer. I like to call this the creepy basement effect - every neuron in your brain tells you not to go down into that dark and fetid tomb yet you know, at the back of your mind, edging to the front in a seething wave of horror, eventually you are going to have to descend those creaking stairs into the unknown gloom. This is why having a shopping list is so important. If I'm being forced out into a dangerous environment - and the outside world should be truly dangerous in a decent Zombie game - I want to know exactly what I need to get before I can return to safety. This is not the same as a list of objectives - for a "do what you want" survival game, these "get this" "get that" rules are far too strict. Instead, a shopping list is a series of things the player wants rather than things they must get.
Developers may boldly claim that adding such a feature is a waste of time and to some extent I agree with them. There are alternatives out there for free. For example, a shopping list could easily be written and maintained outside of the game - requiring the player to Alt-Tab to a text editor when adventuring. The problem with this is that it ruins immersion - as soon as you disengage from the game to check an external note, you lose the feeling that you are part of the fantastical world the developers painstakingly created.
How it can be done: There are a few ways this could go - depending on how deep you want the experience. The simplest option would just be a game-specific text editor you can access at any time. Branching off from that, and the implementation I favour, is a list as an actual in-game item that you have to manually select in a similar way to the map in Far Cry 2 or Firewatch, losing the security provided by equipped weapons and, briefly, leaving yourself open to attack. However, if you are going for super-realistic survival you could make it so the player first has to scrounge paper and writing utensils from the ruins of civilisation. This could be a one-off requirement, permitting unlimited use or a system where new resources must be gathered for the creation of new shopping lists.
2. Spray Paint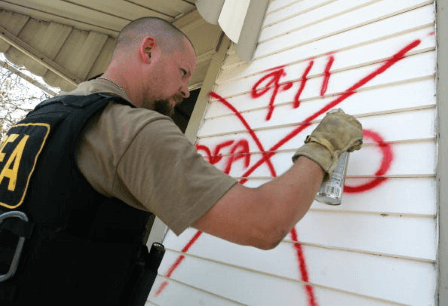 © Vandalism can be useful | Katrina and the Cajun Navy - 7 Years Later
What is it: A canned dispenser of coloured paint used to graffiti walls and "tag" zones.
Why it is important: Remember when hurricane Katrina, and the subsequent flooding, devastated New Orleans? FEMA (Federal Emergency Management Agency) was charged with picking through the water-logged debris and searching for survivors of the deathly incident. To aid and coordinate their efforts, FEMA adopted a beautifully simple way of "tagging" buildings that had been searched; requiring nothing more than a dash of intelligence and, you guessed it, a can of spray paint. When FEMA agents had cleared a house or structure they would mark it using a special symbol to denote their findings - how many people were left alive in that house, if there were any dead bodies for pickup and whether or not there was food in the house. The exact nature of the markings are not important, it is the general idea of how vital a simple can of spray paint was for coordination of house searches that I wish to get across.
This feature would be amazing in a cooperative, open-world, multiplayer Zombie survival situation game like 7 Days to Die. Imagine being part of an organised group that methodically marked houses after scavenging and, depending on how detailed their marking system was, returned to partially looted buildings known to contain only the required type of loot. Or, taking organisation to extremes, perhaps the group has dedicated "runners" which are lightly armed and have minimal inventories to maximise hauls, marking any structure lousy with undead for the "heavies" to return to later. Imagine, being all alone in the world, coming across a symbol from a foreign clan, forcing you to deal with a situation you are, perhaps, not prepared for.
How it can be done: As with the previous feature, there are many ways this could be implemented, each with advantages and disadvantages. The simplest would be not to have a spray paint can item - just have a set image that can be pasted to a wall with a keyboard button press such as the system employed in Counter-Strike. This is obviously fairly limited as players cannot include custom information in "tags" - it gets the basic idea of organized cooperation across though. Perhaps, that image could be customised outside the game with a detailed painting program and then imported in. Maybe a range of different "tags" could be chosen from - selecting a suitable one before painting based on the individual situation.
Going up a level, you have an actual can item that may or may not need stocked up with fresh paint, depending on the realism of the survival simulator. This could just be used as a visual que to apply the same simple set image or you could go all out with the third option - a full-blown "draw 'em up" as seen in Duke Nukem Forever. This means that players paint images with almost pixel precision and are free to create pretty much any design they like, incorporating as little or as much detail as they desire. However, while this freedom may immediately appeal remember that humans, gamers especially, are humans - eventually someone is going to spray paint a giant man sausage on the front door of the building they just cleared.