Support Nightmare City on Indiegogo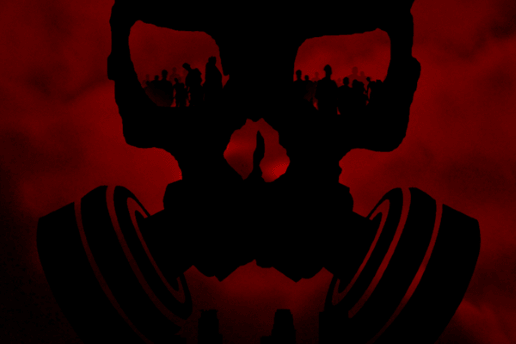 © http://zombieapocalypse.net/zombie-movies/tom-savini-to-remake-nightmare-city
This article is shamefully rushed - shoved out the door quickly before I go on holiday for a week. I do not like publishing articles until polished to a stupid degree but I simply had to inform you of this ultra-cool Zombie movie project on Indiegogo that I stumbled upon late last week. Thankfully, despite my lateness, there is still time to get involved in this potentially meteoric project, to pledge money - as I have - and help make this stunning forthcoming film even better. The project has already breezed past its original funding goal meaning that it is "a sure bet", the film will be made.
What is this project and why should I care about yet another Zombie movie, I hear you cry. Well, to answer the what question; the project aims to remake the horror-filled 1980s film Nightmare City. As for the why; like an annoying info-leaflet dropped at your door, destined to be binned without reading (though with using virtual paper, you would have to bin your computer to avoid my wordcraft), I will explain.
Nightmare City
First off, and just like Origins, the Indiegogo Zombie movie I advertised a few months back, this remade and reimaged future masterpiece has some big names behind it. Tom Savini, director of the amazing Night of the Living Dead 1990 remake and self-proclaimed king of splatter and gore, is taking the role of Director and Make-up Artist. Umberto Lenzi, director of the original Nightmare City, is standing by as Associate Producer, ensuring the modern remake meets the horrific soul of the original. Last but not least; Oscar-nominated cinematographer Dean Cundey, who worked on many famous films from John Carpenter including The Thing and the brutal Halloween series, is in talks to be Director of Photography. If the mere prospect of being involved in a Zombie movie with this talented trio behind it is not enough to make you want to throw money at the computer screen right now, I would question your loyalty to Zombie fandom.
Most of the story for the modern remake remains true to the 1980s original film with some minor tweaks for the up-to-date audience. The major update changes the original's Zombies - I prefer to think of them as Flesh-crazed Freaks rather than true Zombies, moving fast like 28 Days Later infected and using tools to aid their blood-letting quest - from the hapless victims of a nuclear disaster and consequent radiation, reflecting environmental concerns of the time, to unfortunate souls caught by a fictional disease, grounded harshly in reality.
"After the outbreak of an unknown virus in the Caribbean the Miami Port Authority receives an SOS from an international aid ship returning from Haiti. TV reporter Dean Miller and his cameraman Charlie are sent to the port where rescue teams are awaiting the arriving ship. At first the ship appears to be deserted, but suddenly the rescue teams are attacked by dozens of deformed people. Infected by a new hybrid of two of the most deadly viruses of our time - Ebola and leprosy; their faces and bodies are covered with welts and sores and they are hungry for blood.
Dean and his colleague witness a brutal massacre and return to the TV station to inform the public about the horrifying events, but the government and military prohibit the broadcasting of the news in order to avoid a panic. With the public in the dark, the virus and the number of infected people start to spread over the city, while Dean, his wife Anna and a small group are trying to escape from the 'City Of The Walking Dead'..."
This plot, although basic, has me excited. A major highlight for me is the potential tension created by the seemingly deserted incoming ship, followed by the sudden realisation that it is not so deserted after all. I also really like the general sense of panic and chaos the situation creates - no one was prepared for what the ship was about to unleash and, realizing the untold horror this would cause if the world learned of this new threat (not to mention the probable quarantine and extermination of their home city), the military try to cover it up. However, simply not reporting the blood-crazed fiends cannot stop them spreading (it may even aid the spread by failing to inform at-risk citizens) and it is not long until the entire town is enveloped in a whirlwind of blood, bodies and bullets. Adding to this, the fact that the Zombies are "sort-of" explained as a product of a mutated hybrid disease is welcome in a world of movies featuring undead freaks that exist for no other reason than the movie producer wants them to. Whether the remade movie will provide a concrete "explanation of the dead" - how the hybrid virus came to be and how humans came to be infected by it - remains unclear.
However, what really persuaded me to pledge to this project was not my excitement at an aging Zombie movie being remade for modern times (the original Nightmare City has a cult following but never received rave reviews from the critics). What pulled me in was the promise of a truly terrifying Zombie movie. For far too long has Hollywood, and the independent producer, brought out Zombie films about romance, comedy or action. I love that - don't get me wrong. Zombieland, the remade Dawn of the Dead, Shaun of the Dead and Warm Bodies are all fantastic movies but these are all just different "arms" of the Zombie genre (part of why I love the undead is their extreme versatility). Zombies were born as creatures of horror - things to be feared. George Romero captured this dripping, fetid terror beautifully in his wonderful "of the Dead" series. And, while I'm conscious of the fact that audiences are developing "just another Zombie" fatigue, making it progressively more difficult to make them scary, we desperately need a decent Zombie horror film. So I really, really hope the remade Nightmare City can provide this - to scare me in ways that I did not even think possible and to go beyond mere "jump scares" where ravenous beasts suddenly burst, inexplicably, from cupboards, progressing into the realm of true fear. Tom Savini appears to want the same thing:
Still not convinced? As one final desperate plea to grab your attention, the Indiegogo project offers some truly fantastic pledge level rewards - everything from a copy of the official soundtrack to a set visit. There are even levels where you can act in the film as a Zombie or extra, being killed by one of the film's talented stars for a bit more dosh. Also, for the next few days until the funding campaign's closure, a new pledge tier goes online every day - offering a super-cool reward that is only available for 24 hours.
As I say, the original funding goal has already been passed - by quite some margin - so this film will definitely be made and will definitely have all-sorts of awesome packed in. Go on, point your browser at http://igg.me/at/nightmarecity, pledge now and get involved...