7 Days to Die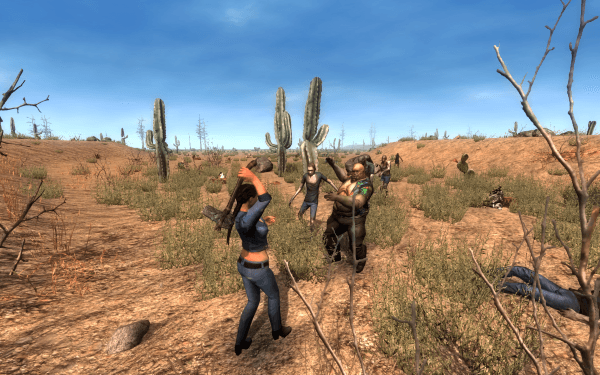 Today, we are taking a look at 7 Days to Die, a Zombies survival game from indie development team, The Fun Pimps. Funded to the whopping sum of over 500 thousand dollars, following a high successful Kickstarter campaign, 7 Days to Die is, in my opinion, got the potential to be one of the greatest Zombie games of all time. In fact, I believed so stubbornly that this unfinished game had grasped the ground-breaking concept of the dead that I pledged a stupidly high $6000 of my own money.
The Game
7 Days to Die is a game on many different levels. First, at the base level, is your regular open-world Zombie survival fare - you are a guy or gal in a town overrun by Zombies. You scrounge for weapons, rummage through cupboards, explore houses and generally try to avoid the ravenous dead in the day-by-day fight for survival. It goes into all the detail you would expect from a survival simulator like DayZ. For example, eat rotten food and it's going to go badly for your stomach, there is a constant need for clean drinking water, characters have an inventory to limit what they can carry and raw flesh must be cooked before eating. Eventually, surpassing DayZ now, the world will have seasons and dynamic weather that alter your survival choices - in winter, warm clothes are paramount and having a built-up food store could be lifesaving, things you won't even need to consider in the sun-baked summer months when crops can be grown.
The Zombies themselves are, unsurprisingly, a highlight for me. In so many post-apocalyptic survival games, especially multiplayer ones (as 7 Days to Die is), the Zombies pale in comparison to the ferocity and deviousness of other human players. The unthinking corpses are simple annoyances, there only real function to provide "coolness" to the game experience and the chance of loot drops to reward players who bother to dispatch them. This is not the case in 7 Days. Here, the Zombies are brutal - something to be avoided at all costs. I admit that, at the moment, the game is still in mid-development without detailed balancing of damage and health but Zombies can easily claw a player to death in seconds if caught off guard (the Zombies cannot bite yet but I'm sure this will be added soon). The deadheads can also transfer infection, requiring you to scavenge absurdly hard to find medicine.
During the day, Zombies are slow - stumbling along (or dragging themselves across the ground) at no faster than a standard walking pace, usually slower - and, therefore, easily out manoeuvred. However, there is some unfathomable magic provided by the first person perspective making the Zombies remarkably efficient at closing the distance when your back is turned. I really like this effect - you could see it in the recent stunning Zombie game, Dying Light -, being in a dangerous area, turning your back to search an object for items while constantly fearing something will creep up behind you, praying that such an unfortunate event will not happen. When night falls, hope of staying safe while in motion is greatly diminished as the dead take on a deadly new form - not only can every single Zombie run at terrifying speeds, special Zombies called Spider Zombies, can actually climb. Combined with their powerful damage dealing swipes as I have mentioned, being out at night is an easy way to get yourself killed.
The Future
The fourth and final layer (until the over excited devs add even more to this experience-packed game), has not been implemented at all yet as the game stands. An entire Role Playing Game skill tree and experience level system is going to go a long way in making each play of the game unique - each character will be able to have different skills, their names still to be determined, and thanks to the game's 'work-in-progress' character customisation combined with changeable clothing, the chances of two identical characters will be slim at most. Then there's a whole single-player storyline experience - quite what this will be remains a mystery save for the tantalising titbit given during the Kickstarter campaign of a Duke of Navezgane and his gang of mutated cronies. Thanks to a higher-level stretch goal being reached; NPC merchants and perhaps even computer-controlled survivors will also make an appearance.
My Opinions
I'm a simple chap - give me a world full of ravenous walking dead people and I'm happy - so it's perhaps not a surprise that my two favourite elements of 7 Days to Die exist outside the smorgasbord of features I have just explained. First, is the atmosphere and general visual style of the game. The simple fact that the world is still bright, it is still green where the Atomic Bombs dropped to try and get rid of the Zombie hordes did not hit, birds sing in the lavish sunlight and wildlife still frolics around without a care in the world - it's like the world is still the same except now the human population has become Zombies. This is what drew me to the game all those months ago. I'd grown tired of the drab, dark and grizzled landscapes of other Zombie apocalypse games - the decaying structures forming the industry standard view of World's End.
Second, something that came into being without announcement, is the host of options The Fun Pimps have added to allow you to customise the game to better suit your version of the Zombie apocalypse. Lots of things can be changed; the damage Zombies do, the amount of loot in the world, the respawn rate of that loot, the day/night length, the toughness of Zombies and so much more. You can even choose to play on a randomly created world, forgoing the fixed Navezgane. The most epic option for me is the ability to change the speed of the living dead. By default, they are slow during the day and fast at night - all well and good but, as I've mentioned in other articles, debate still rages over whether Zombies should be fast sprinters or slow shamblers. The Fun Pimps understand this cosmic difference of opinions and allow the Zombie speed to be set to always fast or, the one I usually go for, always slow. I have had some great experiences with always slow Zombies - it just make things more scarier and tense seeing hordes slowly close around you while keeping a false "safe" feeling of knowing the enemies cannot move quickly.
It's a long, long road
Game making takes a long time - to get something ground-breaking the typical development time is around three to four years. With 7 Days to Die, The Fun Pimps have been going a couple of months under two years so I would expect development is about mid-way through - this game is jammed pack full of interconnected features which must take a toll on resources. Still, I am more than happy for The Fun Pimps to take all the time they need over this diamond in the rough. I'm truly excited for this title and, thanks to frequent updates from the developers, I won't have to wait the long time until final release, nervous about how the game is taking shape.
Stay Tuned
That may the end of my hastily-worded introduction article but it is far from the sum of our coverage of this potential blockbuster (pun not intended). Keep an eye on The Dead Times over the next few weeks; I have something very special in the works about this incredible game and the talented team behind it.