A year ends, the future begins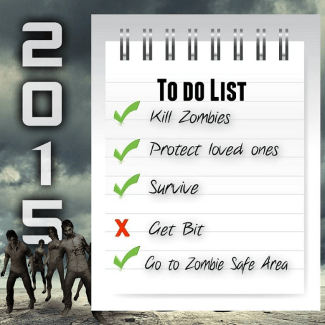 2014 is over. Done, finished, complete. It's both hard to believe and really, really awesome that The Dead Times has been going for over a year now, bursting out of the bile-filled egg of development and spreading it's awful tentacles around the World Wide Web in the latter part of 2013. It's been a good year overall with website improvements, better social media handling, a new member joining, videos sourced from YouTube, articles dripping with fiendish goodness written, Zombie games played, Zombie books read and much more bodacious stuff besides. The absolute best thing though, is our rocking community - I don't hear much from you but I know you're there, hiding in darkness, skulking in the shadows until the opportune moment. Thank you so much, especially those of you who have contacted me or left a comment - seeing that other people are as obsessed with the living dead as I am makes writing for The Dead Times worthwhile. You're the best, guys and girls!
However, as a new year begins, it's time to look forward - a Zombie finishing the corpse it is chewing and idly searching the shattered buildings for new prey. I have plans for The Dead Times - things I can do to expand the electronic world of undeath that I have created. Firstly, and what I regard as a must, is a dedicated The Dead Times YouTube channel. I've had this idea floating around in my head for a while and see it as an excellent way to garner some more interest in the site while having some fun at the same time (not implying that working on The Dead Times is not fun). Exactly what form it will take is not yet carved into an unerasable gravestone. Something is moving in the darkness, disturbing the soil, rustling the trees, worming through the undergrowth, creeping in shadow, waiting for its abrupt and terrible release - you have been warned.
Next, I aim to get an email update system going - basically a newsletter which you can sign up to, giving you an email whenever some content is posted on The Dead Times. I've got the backend code to do it but there is still some work to do before this monstrosity can wander onto the ethereal universe of the interweb. For the moment, letting you guys know of updates - often sporadic - is done entirely via my account on Twitter. It works well though is far from ideal. I can, begrudgingly, create a The Dead Times facebook page as another social outlet. I do not like facebook much, often calling it bookface out of spite, but if there is enough demand then I will fall, callously, off my high-horse.
Thirdly, I really want to get started writing Diaries and other fiction. This was my intention all along, right from when the idea for The Dead Times slithered, unstoppably and uncaringly, from my mind. Sadly, I have just not had the time; these more creative pieces require a substantial amount of planning and trying to maintain a weekly update schedule combined with normal life shenanigans has made things difficult. I will probably have to cut back on updates for these items of fiction - something I do not want to do but an action I feel will benefit the site in the long-term.
Lastly, community feedback - I want to know what you people think of all this. I've got mountains of other directions for The Dead Times to go so have taken it upon myself to create a poll on Strawpoll.com. Please click that link and vote for which features you would like to see in 2015 and beyond. Feel free to vote multiple times and select multiple possibilities. I'll check the results in the first week of February and then focus my Zombie-cleansing efforts in the most popular areas, expanding to extended clean-up later.
Remember folks: Zombies have no feelings - I do. Please vote sensibly.
Got an idea for the future of The Dead Times that I've not listed? Drop it in a comment and I'll take a look.